Electronic sports are very popular right now. They come in all genres and immerse players into vibrant digital environments. Players all over the world interact with soccer, basketball, war, martial arts, fantasy, and construction games. Titles such as FIFA, God of War and Call of Duty have gained huge popularity in e-Sports. To perform the best in these games, it is necessary to invest in a good quality ergonomic gaming desk. It will give you a good posture and deliver your controls an arm's length away. Here is why an ergonomic workstation is important and some outstanding models.
EUREKA ERGONOMIC Z1 – S Gaming Desk
If you want a professional gaming desk, the EUREKA ERGONOMIC Z1 – S has got your back. It is a Z-frame desk that has been specially adapted for gaming. It delivers a great experience because it can support a monitor that's up to 40 inches wide. The desk is equipped with some LED lights to create an ambient experience. It is also fitted with a stand for your controllers. This keeps them well organized and within reach.


You'll definitely need some high-quality peripherals when playing professional games. This desk provides dedicated spots for you to place them. There is a headphone hook that keeps your pair safe for interactive gaming. There's also a cup holder for your coffee. These features make this ergonomic computer desk perfect for professional gaming.
Pros
There are numerous spots for holding your peripherals
It has LED ambient lighting
It has a Z-shaped frame
The table has rounded edges for safety
There are cable grommets
It can support a huge computer display
Cons
It is used so you can expect some cosmetic imperfections
EUREKA ERGONOMIC R1 – S Gaming Desk
To enjoy your electronic sports in a safe way, you need to use the EUREKA ERGONOMIC R1 – S gaming desk. This unit is ideal for your gaming computer. It provides ample space and peripheral holders as well. The unit also has some ambient LED lighting. In this way, you can coordinate the LED lights to reflect the theme of your games. This gaming desk is easy to assemble. Best of all, it comes with a free mouse pad so you can enjoy efficient, speedy mouse movement in your games.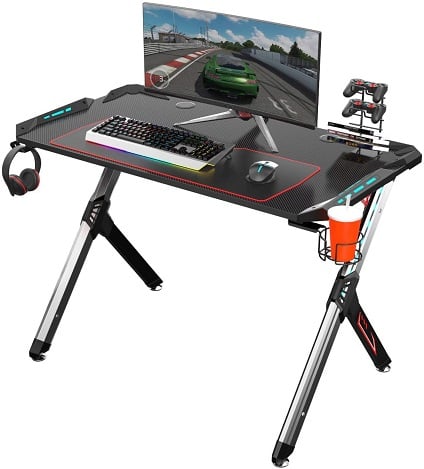 This ergonomic gaming desk comes with extra facilities to ensure your comfort throughout the gaming experience. Some examples of these include a cup holder for your soda or your coffee. Another feature is a headphone hook. This keeps the unit safe and functional for clear communication during interactive gaming. Finished in black, it is a strong and beautiful gaming desk.
Pros
It is sturdy
The unit has cable management ports
It is LED-lit
The unit has a carbon fiber texture
It has a controller stand
The table has a stabilizer bar
Cons
It does not have a storage drawer or basket
VITESSE Ergonomic Gaming Desk
With a T-shaped frame, the VITESSE Ergonomic Gaming Desk is a stable, fully-fitted unit. It has a full-desk mouse pad. It can support a wide-screen computer display along with a keyboard and controllers. It also has a USB gaming handle rack. The desk is tastefully decorated with red racing decals. It also has a controller stand. This keeps the surface tidy and wire-free.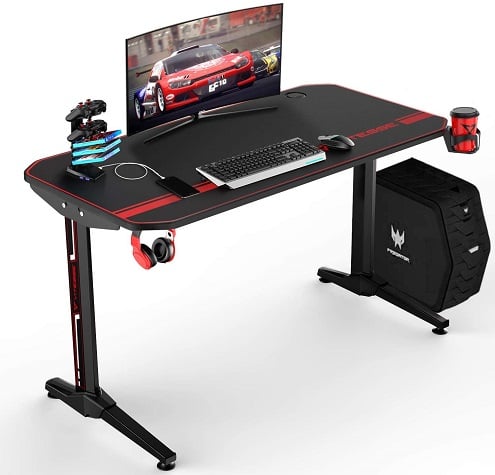 Your convenience was of prime importance during the design of this ergonomic gaming desk. For this reason, there is a headphone hook. It is essential for keeping your pair safe and functional for good quality communications. Furthermore, the desk has a cup holder for your soft drinks or coffee. As such, you can enjoy a sip while playing your favorite games.
Pros
It has a full-desk mouse pad
The unit has a USB powered gaming handle rack
It has red racing decals
There are a headphone hook and cup holder for convenience
Cons
It does not have storage baskets or drawers
Bizzoelife Ergonomic Gaming Desk
Do you like to play computer games using a big display? Should you enjoy this, the Bizzoelife gaming desk will suit your preference. It is big enough to hold large screens up to 42 inches wide. The unit is also equipped with Red, Green and Blue LED ambient lights. You can use them to set the perfect environment for your gaming experience. The desk has a versatile design. As such, it can perform as an office desk as well as a gaming center. Hence, this piece is very flexible.


It is always best to have a cable-free ergonomic workstation while playing your games. For this reason, the Bizzoelife gaming desk has 2 cable management holes. They come in very handy if you have two or more monitors for your gaming setup. You can also enjoy maximum convenience thanks to the headphone hook and cup holder. They are essential for keeping your setup most comfortable.
Pros
It has 2 cable management ports
This gaming desk has LED lighting onboard
You can set up two or more monitors quite comfortably
It has a cup holder and headphone hook
Cons
There's no under-desk storage
Tribesigns Gaming Desk
When you need a heavy-duty gaming desk, the Tribesigns unit is more than enough. This fantastic desk is fully equipped to deliver a high-quality gaming experience. It is packed to hold any peripheral or accessory that you'll need. The desk has a built-in monitor stand. The desk is also expansive enough to hold multiple monitors. This allows you to create a complete immersion gaming experience.
The Tribesigns ergonomic workstation is fitted with numerous hooks, nooks, and crannies for your gaming equipment. It is equipped with a large mousepad capable of holding a keyboard and a gaming mouse. It also has a lifted monitor section that is stabilized with extra reinforcement.


This gaming desk is fitted with a K-frame. As such, it is stable even in vigorous gaming conditions. Moreover, it has a storage shelf underneath the main desk. There are also 2 cable management ports on hand for you. To increase your convenience, the Tribesigns Gaming desk also has a headphone hook and cup holder. It is the best ergonomic gaming desk you can get today!
Pros
It has a K-frame for firm operation
The unit has a cup holder and headphone hook
It has a storage shelf
There's a built-in in monitor frame
There are multiple cable grommets
Cons
It does not have LED lighting
Why you should choose ergonomic gaming desk
Proper posture
Playing electronic sports requires you to sit for long hours in front of a computer monitor. If you use a standing desk, the long duration can lead to a bent spine and painful shoulders. Over the long term, it can lead to permanent damage to your posture by causing spinal strain, stressed back muscles and a strained neck. An ergonomic computer desk can provide a perfect view of the monitor and easy access to the peripherals or holders for accessories. By bringing these items to close proximity, the gaming desk ensures that you can play your games with the right posture.
Easy access to controllers
An ergonomic gaming desk setup is arranged to provide easy reach to all the controllers that you will need for your games. It has a dedicated spot for your monitor, space for your keyboard and a special surface for your gaming mouse. The latest gaming desks have sections for controllers, headphones and even cup holders. It is a comprehensive gaming center for you.
Safety is guaranteed
Gaming desks ensure that your equipment is safe. The desk is made of waterproof material. As such, any gaming electronics stored in the drawers are safe from spilled soda or coffee. Also, there are hooks and perches where you can store headphones, gaming pads and game discs. The edges are rounded and plated with special materials such as carbon fiber. As such, using a gaming desk ensures your safety and the continued proper operation of your equipment.
Overall
To enjoy your computer games to the best, it is necessary to have a dedicated desk. This is a piece of furniture that is designed for a gaming computer and any peripherals or accessories you may need. The desks above are the cream of the crop. The Tribesigns Gaming desk stands head and shoulders above the rest. It is the best ergonomic gaming desk. For a perfect gaming experience, invest in a gaming desk today!