A good monitor will help to shake things with your computer system. As a coder or heavy social media user, getting a vertical monitor is the perfect device for you.
Some monitors help to change the screen alignment for you to view them vertically. These types of vertical monitors are becoming popular and essential to consider.
There are many companies produce different resolution and different model vertical monitors, and choosing the best vertical monitor is hassle-free when you know the features you want.
Why Vertical Monitor
There are numerous reasons to buy a vertical monitor. If you have an excellent working traditional monitor, you might not know the reason to purchase a vertical monitor.


However, there are valid reasons why you should upgrade to a portrait monitor:
Traditional monitors have been optimal for gaming, video consumption, and streaming, but vertical monitors have proven they are excellent in text-based internet use. So, it means that you need a vertical monitor if you're using the internet for social media purposes.
If you have a 24-inch monitor, it looks beautiful, but the downside of such a monitor is to take much space. This is why countless people turn into vertical monitors to enhance free space and work optimization. With a vertical monitor, you can improve your productivity at the office.
TThese vertical monitors are being marketed over the traditional computers making them affordable. For this reason, working on academic reports and reading webpages doesn't need the same specifications as streaming or high speed do.
It's therefore easy to save costs if you purchase a vertical monitor. Besides, that vertical monitor depends on the models as there are adjustable models. Remember, you should keep in mind these tips for the next portrait monitor you pick.
How To Choose Vertical Monitor
If you want to purchase the vertical monitor correctly, you can look at buyers' guidelines that ensure you'll make the correct choice. Here is how you should choose a vertical monitor:
vertical monitors come varying in the size of the screen for flexibility when you have to set up the working area. These monitors don't exceed twenty inches for their width, but their main concentration is in height. This is essential as they offer a suitable platform in the text-based web interactions.
The correct size of the monitor you choose has to eliminate white space for the optimal experience.
For the display purpose, you have to choose vertical monitors between:
LED – this is devices that offer better definition resolution and vibrancy. Although, these monitors are top on the image quality.
LCD – the vertical monitors at LCD form are cheaper and will give you HD resolution at cheaper prices.
Touch Screen – this essentially will turn your computer monitor into a tablet as they have a touchscreen display.
However, the type of monitor you choose should determine your purpose. Vertical monitors haven't been optimized for gaming or video consumption, and you might need high powered LED monitors.
If you're to choose a vertical monitor, there are three resolutions types. Each type varies because of image clarity and picture quality. These types of resolution are:
HD – these also include the HD+. If they are grouped together, they give the basic type of technology. For these types of screens, they lack crystal clear clarity but produce basic images.
Quad HD – this type of screens offers you with super quality standard resolution over 720p HD.
4K Ultra HD – for this screen, they are generally pricier but will provide you with the best picture quality. If you want to use your device for a professional purpose, this type of resolution is the best.
Top  3 Vertical Monitor
HP VH240A
This is a vertical monitor that comes with 24 inches. The monitor is budget-friendly. It also comes with an ergonomic stand as you can turn the monitor vertically.


Features
The monitor belongs to HP's work line for the business monitor. Besides having 24 inches, this monitor offers you stellar performance and comfortability for business purposes. This is the monitor for people who spend substantial time in their desks.
In addition, the monitor is a potential contender for people who seek the ability for a monitor to display vertically.
Pros
Affordable Price
Inbuilt speakers for audio purpose
It delivers 250-nits brightness
Easy to pivot, tilt, and adjust the height for professional use.
Cons
Lack of connectivity ports
Conclusion
If you need a large and comfortable vertical monitor, choose this model. The monitor comes at a budget and termed as the best vertical monitor you will find in the market.
Asus ProArt PA248Q
Looking at the above monitor, it was for a budget purpose. In this ASUS model, it gives you professional purpose with 24 inches screen. This is the best monitor to choose when you want to edit and design work that I test you.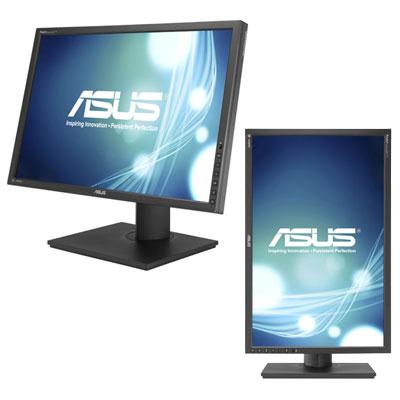 If you're a starter, this is expensive.
Features
ASUS ProArt PA248Q monitor boasts for high performance with an IPS panel that will cover 100 percent of the sRGBs color space.
You should know that IPS doesn't have similar creation. For professional IPS panels, they offer you with better color uniformity and fidelity across their screen.
This monitor, like other vertical monitors, it comes with an adjustable ergonomic height stand. You can use to tilt, rotate and swivel.
In addition, it's display feature the FHD+ resolution and aspect of 16:10 where the normal region is 16:9.
Pros
Ergonomic stand for height adjustments
Better resolution
High performances
Cons
Conclusion
This monitor features the best model for editors and designers.
Dell P2719H
If you need a bigger monitor than the above, choose this dell model. It comes with a 27-inch monitor and purposely for vertical users at affordable prices.


The Dell P series types of monitors are excellent with office work.
Features
This model, Dell P2719H is an excellent alternative to it P2419H that people can choose. They can also have to maintain the same thin profile.
This model gives you a room for multitasking as it comes with a bigger screen 27 inches. So, you can easily arrange the features as it comes with Easy Arrange on monitors software. Besides, the monitor is equipped with FHD 27-inch, and there is a loose arrangement of the pixel.
Pros
Offers vertical orientation
It has a bigger screen of 27-inch
It comes at an affordable price tag
Cons
It features FHD resolution
Conclusion
This monitor is the best for a coder or people working on long spreadsheets. For an affordable and large vertical monitor, this makes it the best model to buy.
What Type Monitor Is Best
In the market, there are many types of monitors you will get. Determining the best monitor is hard. For a vertical monitor, to be termed as the best, it should comes equipped with essential features.
Besides, these vertical monitors have many features that range from different sizes to different display types, and as such, they pose a challenge while choosing the best monitor. For that matter, one has to put into consideration several factors before deciding on the monitor type to go for.
Here are some of the factors that determine the best vertical monitor to choose:
You must have in mind the main purpose you need a vertical monitor. This will enable you to determine, for example, the size that suits your tasks best. For instance, if you're a professional graphic artist, you need a much larger monitor. The small vertical monitors are intended for other activities such as gaming, as they require a relatively smaller size.
When it comes to the display of a monitor, it's an essential factor to consider. The best monitor gives you the best display type.
There are three types of display that you should expect from a monitor.
Some vertical monitors come equipped with LCD.  These vertical monitors are more efficient in terms of energy consumption and productivity, unlike the glass-based. It also provides a high-quality performance at a reasonable value price.
The other type of display is the LED. This type is the best in the production of high-quality pictures with less power usage as compared to the LCD. They are also superior to LCD in terms of appearance and a sleeker design.
Some vertical monitors come equipped with In-plane Switching (IPS) type of display. This type of display is best known for its superiority in accurate color reproduction over both the LCD and  LED monitors. This makes it a perfect option for use in multimedia and gaming tasks. Additionally, these monitors offer an excellently wider viewing angle.
The size of different monitors varies greatly depending on various factors that include; the available space, monitor's use, and also their respective prices. For instance,small-size vertical monitors are suitable for activities such as sharing and viewing images, surfing the internet among several others. On the other hand, an ultra-wide monitor will help to multitask on different applications at the same time.
The monitor to be termed as the best, it should have the ability to connect with other devices such as laptops. These ensure that it's at the maximum capability. For better accessibility, the high-end monitors have to ensure they come fitted with various connectivity features. These connectivity features are the input and output options.
The Final Verdict
If you choose the correct type of monitor, it will be easier for you to surf the web. These monitors are perfect for individuals whom their primary system is text-based functions. The monitors can, therefore, be used for word processing, social media, Google searches, and News reading. With these vertical monitors, they enhance by saving your space and streaming purposes to help you increase productivity.
Looking at the information above, it gives you the relevant information you need while choosing a vertical monitor. Not all models are the same, but other portrait monitors give you better performances than others.